Roll over image to zoom in
Need help keeping track of your healthy lifestyle? Want to share data on social media? Want to snap a photo hands-free? You can do all this and much more with our Sportfit Waterproof Smart Fitness Tracker!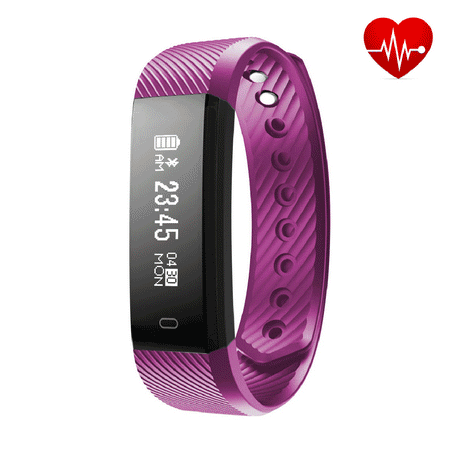 The newer lightweight model has a convenient USB charging port so you can concentrate on your workout without the feeling of a heavy wrist-let weighing you down and battery life weighing on your mind. An OLED touchscreen enhances your user experience and if there's a specific color you're looking for, no need to worry because it's available in 5 popular colors for you to choose from.
If your tracker senses you haven't moved in prolonged period of time, it will even remind you to get active!  Track steps, calories, and even your sleep cycle to better understand your overall health. Check out all the Waterproof Smart Fitness Tracker features down below!
 FEATURES:
Bluetooth connectivity to your smartphone (iOS or Android).

Sleep monitoring: deep sleep, light sleep and awake time. 
Functions: Pedometer, Calorie Counter, Distance Counter, Sedentary Alert, Sleep Tracker, Activity Tracker, Clock, Message Reminder, Call Reminder, Sports Target Reminder, and Camera Remote Control.
Smart notifications: Alarm Clock, Call Alert, SMS Alert, Social Message Alert.
Choose from 5 Colors: Purple, Black, Blue, Pink, and Green.
WHY CHOOSE THIS FITNESS TRACKER?
Helps you set goals. We all get busy and it's easy to lose track of your health, and activity level on a daily basis. Your current lifestyle might mean you can hit these targets with ease. But we all know doing what you've always done isn't going to bring about the change you're looking for. Use the tracker for a week and see how you compare and then change the targets to be more demanding. Reward yourself when you do. :)
Understand your Sleep Cycle. We have always wondered what quality of sleep we have but we don't exactly have the time and $$$ to go to a sleep clinic for sleep analysis. Use this tool instead. With its lightweight feature you will forget it's there when you wear it to sleep, and you can gain some insight on your sleep cycle on a daily basis.
Easy to Use- Strap it on, keep it on, and go!
Get Social! Share your data on Social Media and build a community of supporters to help you meet and exceed your fitness goals.
PRODUCT SPECIFICATIONS:
Bluetooth: 4.0V

IOS System: IOS 7.1 or above

Android System: Android 4.3 or above

App: VeryFitPro

Waterproof Grade: Life Waterproof (IP67)

Display Type: Organic LED (OLED)

Display Size: 0.86" Multi-point Touch

USB Charging Port: Yes

Standby Time: 19-20 days

Battery Life: 5-7 days

Charging Time: 1-1.5 hours

Battery: 50 mAh High-performance Li-Polymer

Size: 9.5 x 0.62 x 0.39"

Weight: .22 lbs.

Material: Durable Plastic / TPE Rubber
Function: Blood Pressure, Passometer, Sleep Tracker, Fitness Tracker, Call Reminder
Language: English
Compatibility: All Compatible
Touch Screen: Yes
Waterproof Grade: Life Waterproof
Screen Type: Color LCD
Style: Sport
Model: ID115 Fitness Tracker
Band Detachable: Yes
Your payment information is processed securely. We do not store credit card details nor have access to your credit card information.