Roll over image to zoom in
Easy to use, worthy of life necessities!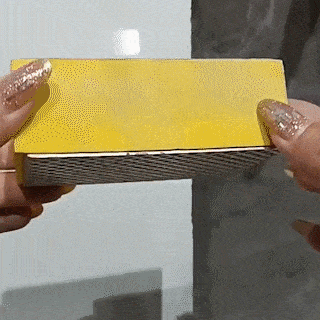 One minute to help you quickly solve the detritus, burrs, edging, polishing, and other problems that you often encounter in life.
FEATURES
Usage Scenarios
It can be widely used in stone polishing, tile trimming, glass burr trimming, metal rust and polishing, wood deburring, etc.
High-quality Materials
The material is light, made of high-strength diamond and a high elastic sponge. It has high compression resistance, abrasion resistance, heat resistance, and can be used repeatedly.
Portability
This product is small in size, light in weight, and very convenient to carry. Comfortable hand-grip design, sponge chassis feel comfortable to hold, polishing is more flexible.
4 Kind Mesh Numbers (Granularity)
The smaller the mesh numbers, the better the grinding effect, the larger the mesh numbers are suitable for polishing. 60 granularity for general slate and floor tiles, 100 granularity for ordinary tiles, 200 granularity for glass, and 400 granularity for fine polishing.
SPECIFICATIONS
Material: Diamond, Sponge
Granularity: 60#, 100#, 200#, 400#
Your payment information is processed securely. We do not store credit card details nor have access to your credit card information.